All it takes is one unseasonably warm winter day to have most of us feeling the "itch". The first day of Spring arrives, we see a few new blooms in the yard, and we think, "this is it - it's time!"  
And then we see the dreaded overnight freezing temperatures that we imagined were now behind us in the 5-day forecast. Mother Nature has done it again: she's played with our emotions, when all we want to do is roll up our sleeves and "play" in our gardens.
Don't let those cold temps get you down – it's time to get those garden beds Spring-ready!
Here's a few suggestions to help get you started:
1.   Cleanup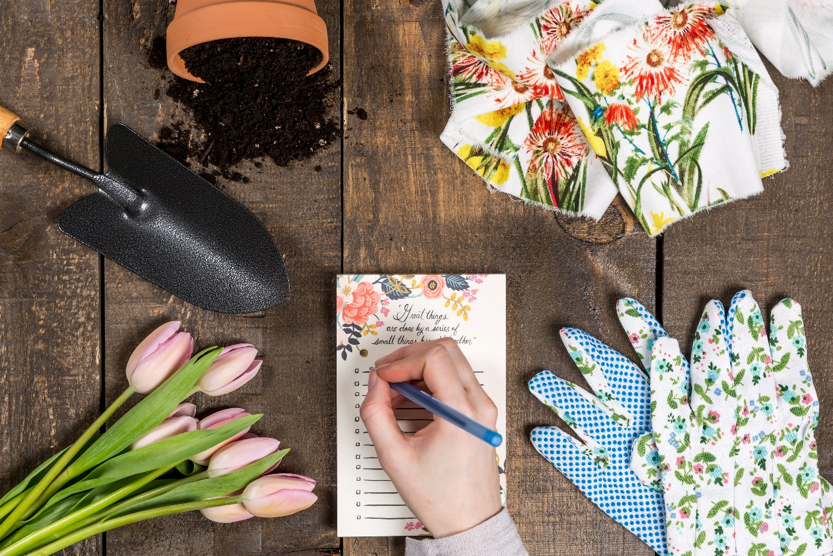 Just as we do spring cleaning in our homes, we need to dedicate time and attention to our garden(s) in order to get them prepped and ready for either new planting, or maintaining your existing landscape.
A great place to start is with clearing any debris that is covering your mulch and/or plants. If your yard is anything like mine, the debris mainly consists of leaves – lots and lots of leaves. While it is beneficial to keep some leaves around your plants, removing the majority of them can give your garden a much cleaner appearance, almost immediately. You can either bag the leaves and dispose of them, or keep them to add, or create a compost pile on your property.
Once the leaves are cleared, the next likely thing to catch your eye will be the dead growth on your plants. Knowing whether or not your specific plants need to have the dead leaves removed from them varies by type so, if you are unsure, it is best to do some quick research to see if it is necessary.
Another fatality in your garden will be your annuals (rest in peace), but we knew this was coming, right? Any dead annuals need to be removed during your cleanup. On the bright side, now you have a new space for another new plant!
If you see any weeds starting to sprout, it is best to pull those out sooner rather than later so they don't have time to get established and become part of your weekly routine.
Pruning is another task that needs to be completed in late winter to early spring, which brings us to our next suggestion:
2.   Observing: Your Plants & Your Space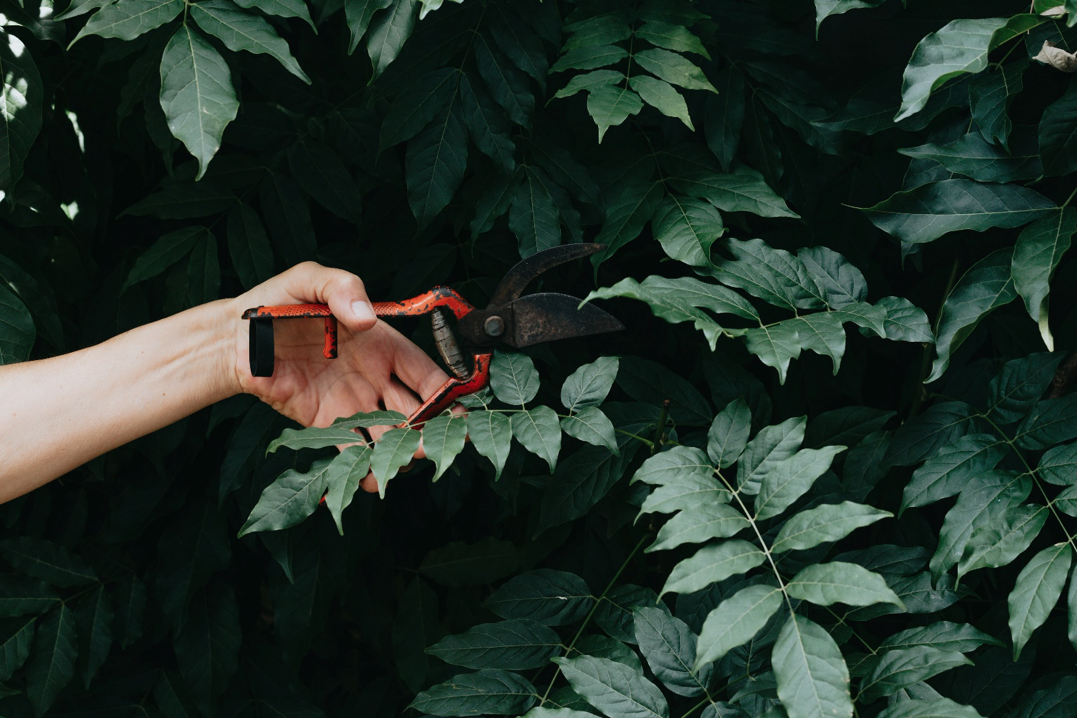 Sometimes your shrubs can take quite a beating over the course of winter, so there are a few things to be on the lookout for.
Any broken limbs will need to be pruned. Using gardening shears, carefully cut the damaged limb off at a 45-degree angle; this will help promote new growth, and make your plant happy.
Another eye-sore you might come across are brown patches. There are various factors that can cause this on your shrubs, but when you see it, it is best to remove it as soon as possible. Using the same method, carefully prune off any discolored offshoots. Again, your plants will thank you.
While we are observing areas that need a little TLC, we also need to observe our garden in a different light (no pun intended), especially if we are planting in a new garden, or gardening for the first time.
Observe over the course of a few days: How much sun and/or shade does your space get on a daily basis? This will ensure you are selecting the right plants for the right spot.
Keep in mind, if you are planning a new garden, factor in things such as large trees that will soon create a canopy on your property, making a once sunny spot, now mostly shade.
(Your garden is looking great already!)
3.   Soil, Conditioner & Compost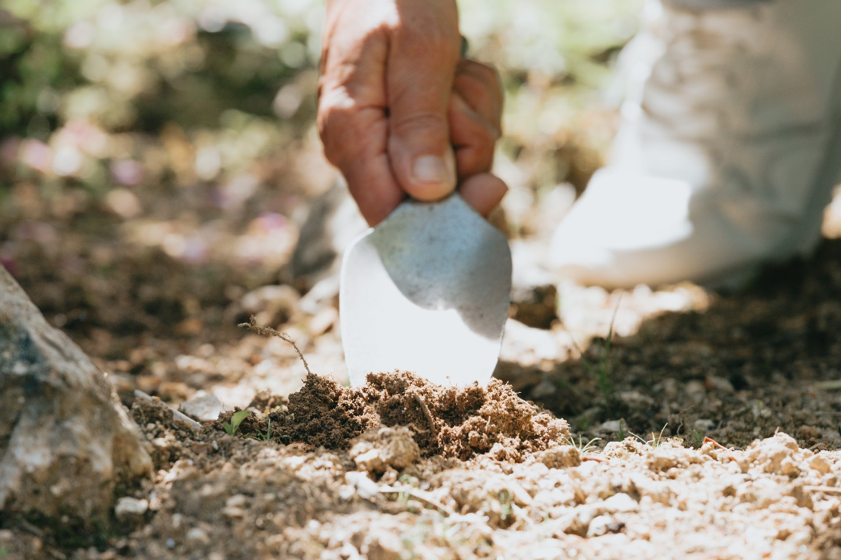 A crucial part of a healthy garden is the ground beneath it. There are a few components you can add before mulching to ensure your garden will thrive.
Soil – an organic material that serves as a medium for growth.
We recommend: Timberline Top Soil
Soil Conditioner - product used to improve the soil's quality
We recommend: Just Natural Organic Soil Conditioner
Compost – decomposed organic material that improves/benefits garden soil
We recommend: Black Kow
Good news: HKN carries each of these products, and more!
4.   Frost-tolerant Plants
According to Almanac.com, Rustburg, Virginia's estimated frost date, the last day we anticipate freezing temps, is April 24th. 
For those of us who can't wait that long (I'm right there with you!), there are several frost-tolerant flowers and shrubs that are ready to be added to your landscape whenever you are.
Here at Huckleberry Knob Nursery, we have several beautiful options for you, including colorful pansies, Hellebores (or Lenten Roses), and primroses (pictured below) – all of which are frost-tolerant.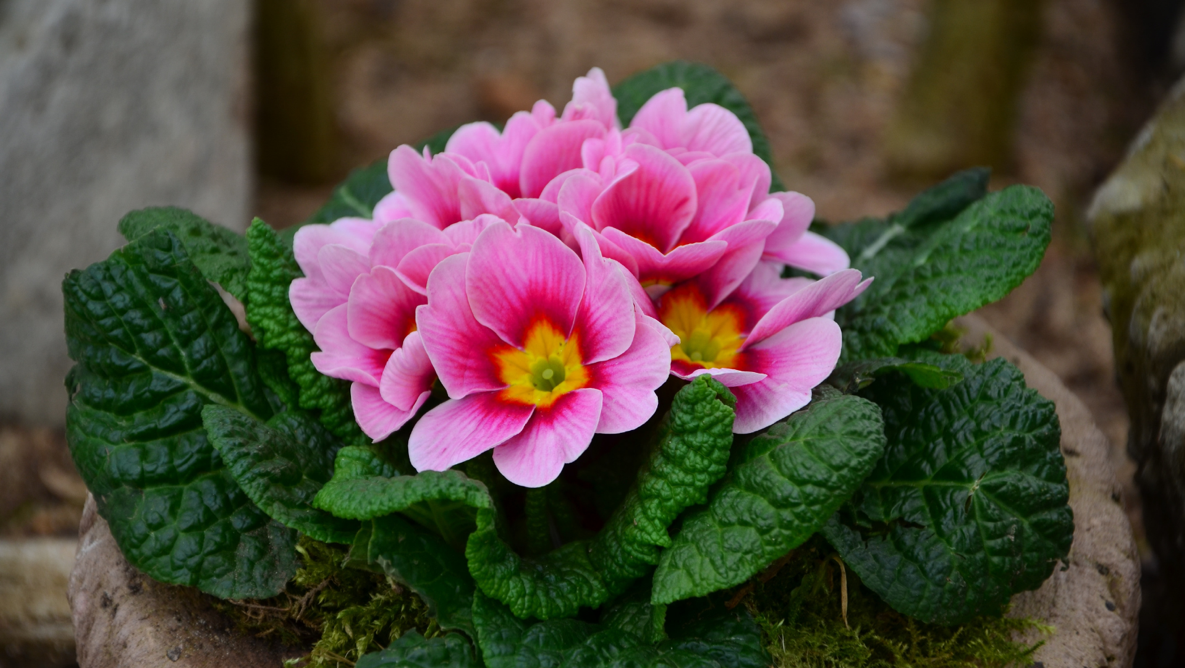 Early spring flowering shrubs, such as Witch Hazel (Hamamelis × intermedia 'Arnold Promise') and Forsythia (Forsythia x intermedia) are also a great way to incorporate show-stopping color into your space.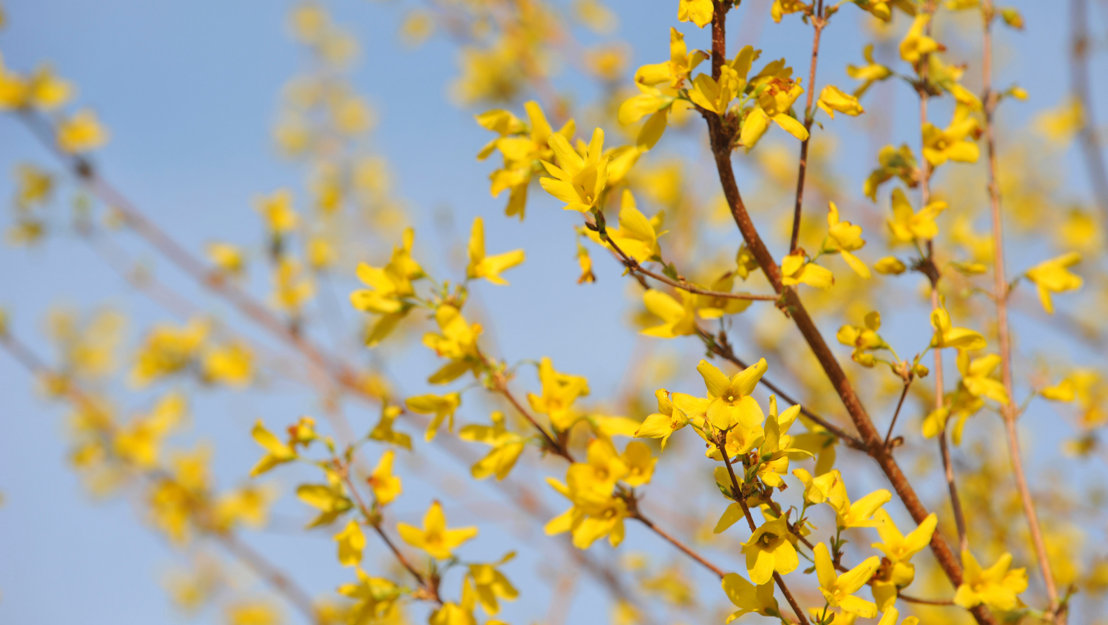 Pictured here: Forsythia
If you are concerned about frost damage to your plants, you can always cover them with a cloth, or even a bucket, depending on the size, overnight, just to be safe!
Still have questions?
We're here to help! Our friendly and knowledgeable staff here at HKN is happy to get you started.
Visit Us: 1469 Sunnymeade Rd, Rustburg, VA 24588
Huckleberry Knob Nursery is open 7 days a week:
            Sunday 11:30am – 4pm
            Monday – Saturday  8am- - 5pm
Call Us: (434)-439-2199
Browse our growing selection online: www.huckleberryknobnursery.com
We look forward to meeting you!